Transponder Keys
The majority of new cars on the road come with some type of "transponder key." Toyota, Ford, Chevrolet, Chrysler, Nissan... Most every manufacturer uses a transponder key.
What is a Transponder Key?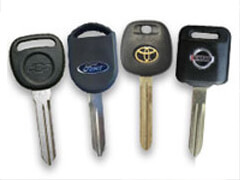 Simply put, these keys have an rf transmitter inside of them. A device near the ignition switch of the vehicle has a receiver. The key transmits an extremely low-level signal that the vehicle can detect only when the key is in the switch.
How Can I Tell If I Have A Transponder Key?
In most cases, the plastic part of the key will be thicker than a key without a transponder. This is not always the case, but it is a good sign.
We can meet you wherever you are and in most cases create your smart key on right the spot. All Key Dpoctor technicians are thoroughly trained to perform programming of transponder, VAT & smart keys for most any make or model vehicle.
Replacing a transponder key for your vehicle is not as simple as getting a new key cut to match your ignition. This process should be performed by a trained professional in order to ensure the key will function properly and start your vehicle. Not only are our car key replacement services cost effective, but we can complete the job much quicker than the competition or the dealer.
Laser Cut Keys
Transponder Keys
24/7 service
Dealer Chip Keys Programmed On-Site
Remotes Programmed
Electronic Keys
Key Replacements
Keyless Remotes
VATS Keys