Proximity Keys
A proximity key is a small fob that allows for a keyless entry and ignition system. The fob communicates via radio waves with your car to lock and unlock doors and start the engine when within the acceptable range. Mercedes-Benz was the first to introduce this system back in 1998. Proximity keys are known by a variety of names. Some of the more common names are listed below:
Intelligent Key
Keyless Access
Keyless Entry
Keyless Go
Push Button Start
Push-to-Start
Smart Key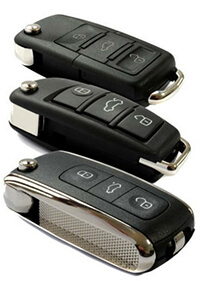 The smart key allows the driver to keep the key fob in a pocket or purse when unlocking, locking and starting the vehicle. The key is identified via one of several antennae in the car's bodywork and a radio pulse generator in the key housing. Vehicles with a smart key system also have a mechanical key back-up, usually in the form of a spare key blade supplied with the vehicle. Generally, the key hole is hidden behind a cover plate for aesthetics.
Key Doctor specializes in automotive locksmith services and is equipped to cut and program a new proximity key at a time and location of your convenience. Call us to set up an appointment for us to cut and program a spare key to eliminate the cost, time, frustration and hassle that are caused by losing your only key and having your car towed to the dealership.