Ignition Replacement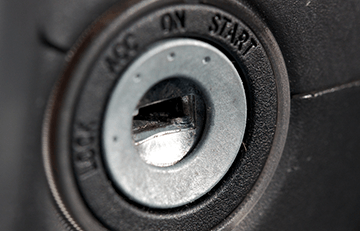 The ignition switch is part of the starting and charging system, and the ignition system. When turned, the ignition switch turns these systems on, allowing the vehicle to start and run. It also controls many other components in a vehicle, acting as a power switch for those components as well.
How does the electrical ignition switch work?
The electrical portion of the ignition switch receives power from the battery, and distributes that power to several components depending on what position it is turned to. Since the ignition switch is not designed to carry heavy electrical loads, it mostly sends power to relays that power systems independent of the ignition switch.
When ignition switch issues arise, it is normally dangerous or impossible to drive. Depending on the point of failure, the vehicle could leave you stranded, stall in traffic, or even fail to turn off the engine when the key is removed. Driving should only be done once the ignition switch has been repaired.
Vehicle Ignition Services:
Diagnostic service
Ignition repair
New ignition installation
Broken key extraction
Ignition locks installation